Between extended hours baking cookies at the stove, multiple deadlines before the end of the year, and getting crafty to make handmade gifts for my loved ones Christmas is the busiest most wonderful time of year at Do Sask Headquarters. That doesn't leave a lot of time to get my outfit ready for the Ugly Christmas Sweater Soiree.
Mixing eggnog into my morning coffee almost totally makes up for it!
If your holiday season is anything like mine, you're probably wondering where to find the time to put together a prize-winning outfit for the Ugly Christmas Sweater Soiree on December 12 and December 19 at the Hose & Hydrant Pub. Well, not to worry. I've done the work for you, so you don't have to!
Here are some of the tackiest last-minute outfits I could find to inspire your look for the Ugly Christmas Sweater Soiree:
1. Use your tinsel to steal the show as an eye-catching tannenbaum.
You might need a friend to wrap the tinsel around you, or you could tie it around a door knob and spin. Finish the look in 5 minutes or less!
2. Go bow-nanas with a chic take on tacky Christmas DIYs.
Black shirt, leggings, tape and bows. This basic look may take 30 minutes or less with three of your friends taping and sticking.
3. Pimp your beard! Show off that luscious mane with battery-operated string lights.
Once you're finished weaving the lights into your beard hair, top off this colourful look with a flannel jacket and stylish cap.
4. Channel
 Lil' Kim circa 1999 with a holiday spin in this sexy Rudolf getup.  
There's a NSFW ladies version, but this sweater seems like it's better suited for adventurous/hilarious dudes.
5. This cold shoulder grumpy cat sweater is something I'd consider wearing regularly.
Okay, minus the Santa hat. It's kind of cute.
6. Paired up? How about this lovely couples' sweater set…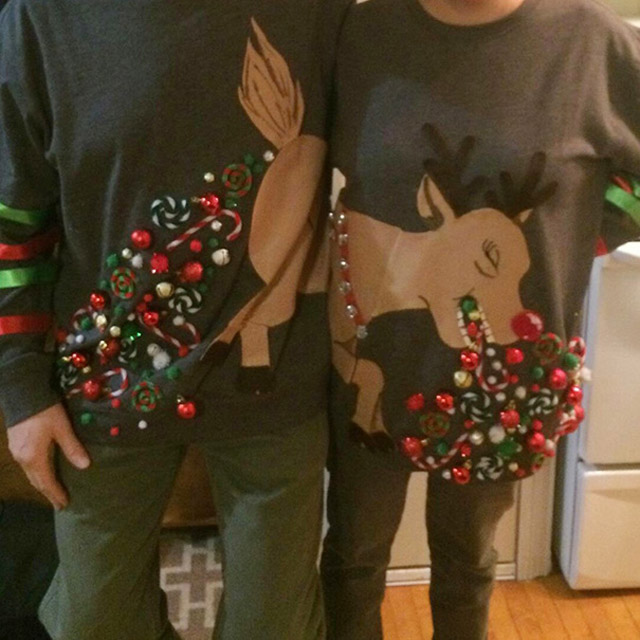 Because everyone can relate to Rudolf now and then. Especially at Christmastime.
7. Or this not-so-subtle Frosty the Snowman tribute?
Props to this spirited couple for going all-in with their innuendo.
7. This mantle-place replica with stockings and fire get a standing ovation from me.
Not sure if this girl dressed up for an ugly sweater party, or had to stand in as a fireplace at Christmas.
About Do Sask's Ugly Christmas Sweater Singles Soiree
Do Sask is known for connecting people to new ideas and activities at speed dating events, art classes, and brewery tours in Saskatoon. The Ugly Christmas Sweater Soiree at the Hose & Hydrant Pub is the perfect opportunity to come and meet the Do Sask community. Registration is by donation with 50% of all profits donated to the YWCA Turning Points Program.
Friends and the curious welcome, regardless of relationship status.
Optional speed dating will be offered along with hilarious party games, prizes for ugliest sweater, and raffle draws. Do Sask throws out the old rules of speed dating for a more connective experience.
There are two Ugly Christmas Sweater Soirees for different age groups:
Both start at 7 pm and run 'til late. Please wear an ugly Christmas sweater if you have one! (Santa hats work, too!)
Tickets are by donation with half of all profits going to YWCA Turning Points program. The Ugly Christmas Sweater Soiree at The Hose & Hydrant Brew Pub, December 12 and 19, 2017 starting at 7 pm. Please share your tacky outfit ideas in the comments below.